Looking for general dentistry services?
Start your journey to a happier, healthier smile.
No matter what kind of dentistry service you need, you'll find it here at Sparkle Dental in Joondalup.
Discover our full suite of general dentistry services to find out how we can help you keep your teeth happy and healthy and regain your confidence with a smile.
Prevention is always better than a cure.
Help prevent bigger problems and treatment, with regular check-ups, which include a review, evaluation and thorough dental scale and clean.
Whether it's been 12 months or 12 years since your last visit, we're here to help and look after you without judgement.
Feel like your teeth have lost their sparkle?
Whiter and brighter teeth are possible with our professional teeth whitening services.
In-Chair Whitening
Our in-chair teeth whitening service includes a consultation and a one-hour whitening session.
Take-Home Whitening
Our take-home teeth whitening service includes a consultation, impressions for you to take home and a teeth whitening kit.
Whiten your teeth in the comfort of your own home for a minimum of two hours at a time.
If your teeth are worn, decayed or damaged, dental fillings may be required to maximise the health and longevity and help avoid further treatment in the future.
We offer composite (tooth coloured fillings) and ceramic (porcelain fillings), allowing you to choose your material of choice.
If you have red, inflamed gums, are experiencing pain and are having difficulty opening your mouth, you may have wisdom teeth issues. Wisdom teeth can cause severe discomfort and pain and should be removed when this occurs.
At Sparkle Dental, we have extensive experience in wisdom teeth extraction and removal, as well as dedicated training in this area and are here to help relieve your pain.
While you sleep soundly, we'll address your teeth issues, allowing you to wake knowing your wisdom teeth will cause you issues no longer.
If your teeth are badly damaged due to decay or trauma, you may benefit from a crown or bridge.
Dental Crown
A dental crown (sometimes referred to as a cap) covers the entire tooth, right down to the gum line, completely sealing up the tooth. When correctly fabricated, a porcelain crown will closely replicate a natural tooth, helping restore strength and integrity to a tooth.
Your crown will be a similar shape and size to your original tooth, but can be constructed to help the improve overall appearance of your smile.
Dental Bridge
A dental bridge replaces one or more missing teeth and consists of an artificial tooth anchored to the adjacent natural teeth.
If your tooth is too badly decayed to save with a crown, a bridge may be the treatment of choice.
If you're having trouble eating are experiencing pain and prolonged sensitivity and tenderness, you may have an infected or irreversibly inflamed tooth. Untreated tooth decay and dental abscesses can be the cause of this.
Root canal therapy, or endodontic therapy is the procedure aimed at treating this infection by removing the dead or dying tissue and cleaning out the root canals connected to the pulp, which extend right into the roots of the teeth.
At Sparkle Dental, we're highly experienced and trained in root canal therapy and use the latest state-of-the-art technology to perform treatments successfully. Depending on the severity of the infection, root canal treatment can be carried out between 1-3 visits and sedation options are available for nervous patients.
Are your gums bleeding every time you floss your teeth?
You might have or be at risk of periodontal (gum disease) and it's important to have your teeth and gums examined. Many people don't realise that there are major links between gum disease and systemic disease, due to the inflammatory nature of these diseases such as heart disease, arthritis, cancer and diabetes. So, not only is keeping your gums healthy extremely important for your oral health, it's extremely important for your overall health too.
We're here to offer you advice and a tailored treatment plan to help treat your gums effectively.
Have a dental emergency?
We reserve appointments every day for dental emergencies, exclusively, ensuing we can always help you when in urgent need.
Dental emergencies include toothache, dental access, broken or chipped teeth, avulsed tooth, knocked out tooth, losing a filling or dislodging a crown.
Don't wait. Call us as soon as possible to book an emergency appointment.
Complimentary Smile Consultation
At Sparkle Dental, we care about your smile, and offer your first consultation completely free.
This includes one of our friendly, professional and highly experienced staff getting to know you and your smile goals, understanding your dental and medical history, and discussing your various options.
Don't feel quite ready to come into our Joondalup dental clinic?
We offer complimentary video consultations too, allowing you to discover how we can help you, without leaving the comfort of your home.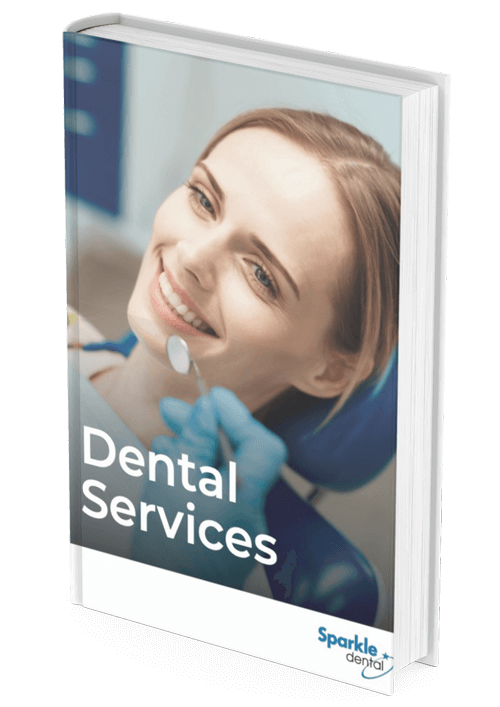 Want to learn more about the range of services we offer?
We've created an eBook just for you.