For a smile you'll want to share
At Sparkle Dental Joondalup, we're experts in the areas of dental implants, sleep dentistry, cosmetic dentistry and kid's dentistry. Through our high-level training and state-of-the-art technology, we restore confidence in people who have felt too embarrassed to smile for years, and sometimes even decades.
Our team is ready to welcome you and your family with care, understanding, education, safety and experience. Together, we're focused on your comfort, and providing the best dental experience possible, reducing your fear of going to the dentist and creating healthy, happy smiles.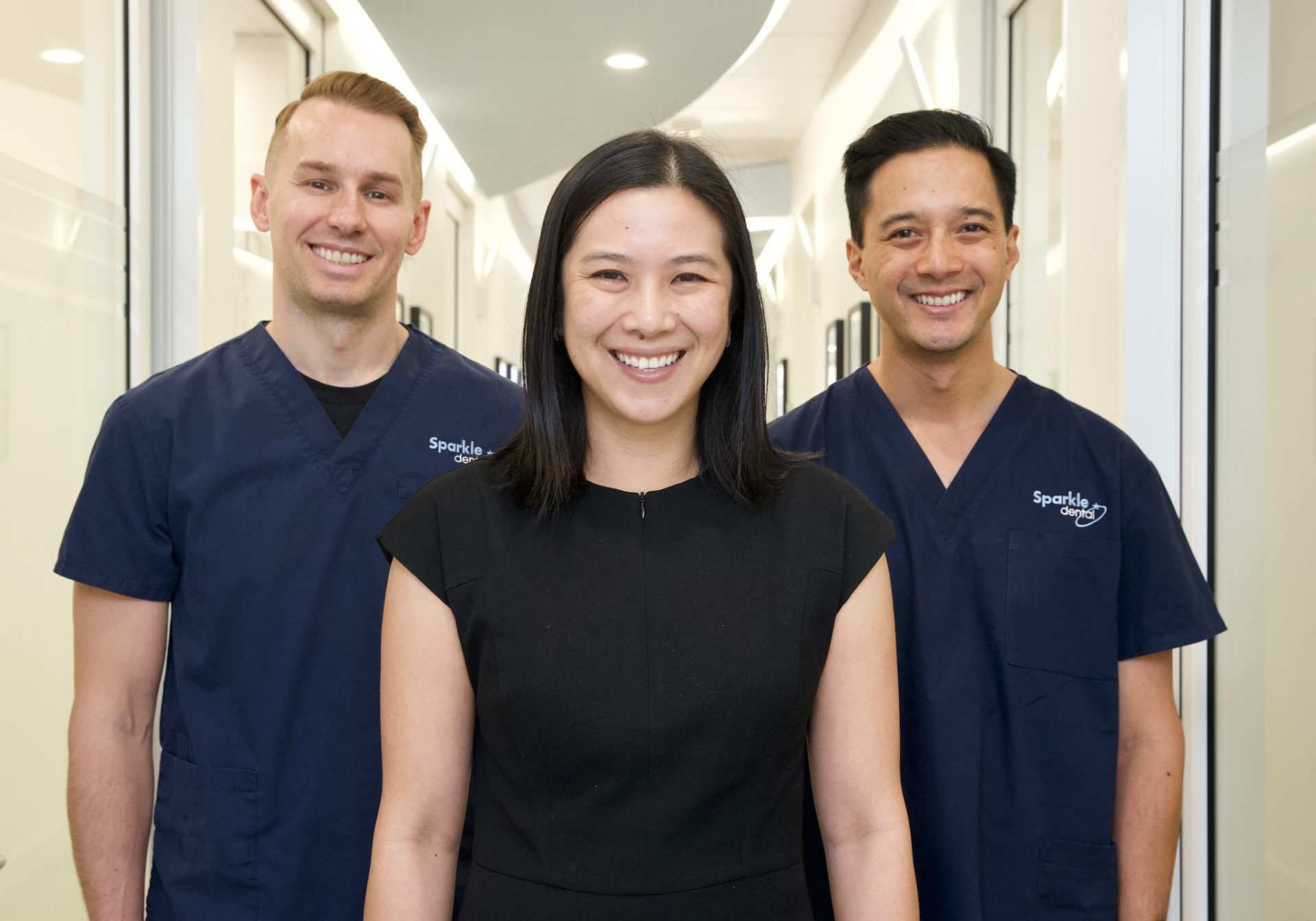 Sparkle Dental Joondalup was established by husband and wife, Dr Alex Devellerez and Dr Shereen Lim in 2004.
We offer general dentistry services, and are also passionate about restorative services including Dental Implants, "All-on-X" Implants (full arch implants), Sedation and Sleep Dentistry, Smile Makeover, Invisalign and Clear Aligners, and Kid's and Teen's dentistry.
The Sparkle Dental practice has flourished and our team has grown over the years, but the most important things remain unchanged. We still share the same vision and mission which have guided us from the very beginning.
To help people live their best lives through dentistry and total health beyond the mouth.
We treat people not teeth. Our focus is on delivering exceptional care and experiences for our patients.
Treat people as welcomed guests
Go the extra mile to WOW!
Be trustworthy and accountable
Build a fun and positive team spirit
Be passionate and purposeful
Empower patients towards total health
Commit to excellence
Continually learn and grow
Embrace innovation
Give back to the community
Does the thought of going to the dentist make you nervous? Do you suffer from dental phobia? Perhaps you've avoided the dentist for decades because the mere thought of it causes anxiety?
You're not alone. Many of our patients are just like you. In fact, we work with patients with dental phobias every day and have created a safe space just for you.
We understand how you may be feeling, whether that be scared, anxious, self-conscious, embarrassed, judged, or all of the above, and are here to help you regain your confidence.
With this understanding, comes our caring and supportive approach, to help you feel safe, comfortable and relaxed, from the moment you walk through our doors. We even offer sedation options to help you experience anxiety free dentistry while you sleep.
Of course, we treat all patients, whether fearful of the dentist or not, but are focused on supporting nervous patients in order to change people's perceptions of dentistry.  We find this to be one of the most rewarding parts of our work.
In December 2013, Sparkle Dental became one of the first dental practices in Perth to achieve Dental Practice accreditation (a voluntary process aimed at promoting continuous quality improvement). Through this accreditation, we have been independently assessed as having met the Australian Standards for quality, safety and continuous improvement in health care, providing you with peace of mind and confidence in the services we provide.
These National Standards detail the consistently high level of care patients should be able to expect from their health care providers with an emphasis on quality, safety, infection control and partnering with consumers.
Good oral health care is built on a positive and active relationship between you and your oral health team.
Within Australia, the Australian Charter of Healthcare Rights (ACHR) applies to the entire healthcare system, and it allows patients, consumers, families, carers and healthcare providers to have a common understanding of the rights of people receiving healthcare. The rights included in the ACHR relate to access, safety, respect, communication, participation, privacy and comment.
Sparkle Dental has developed a charter of patient's rights consistent with the Australian Charter of Healthcare Rights.
We value the community and believe in giving back.
With this mind, each month, a member of our team nominates a charity to which we make a donation. Previously we've donated to the RSCPA, Cat Haven, shark conservation, cancer and mental health related causes.
2021 AIMWA Pinnacle Award for Customer Service Excellence
WINNER
2017 CBA North West Metro Business of the Year
WINNER
2017 CBA North West Metro Customer Service Award
FINALIST
2015 AIMWA Pinnacle Award for Human Resources Excellence
FINALIST
2014 AIMWA Pinnacle Award for Customer Service Excellence
WINNER
2014 CBA North West Metro Customer Service Award
WINNER
2013 AIMWA Pinnacle Award for Customer Service Excellence
FINALIST
You've learned about us. Is it time for us to learn about you?
Call our friendly team today to book your complimentary consultation.